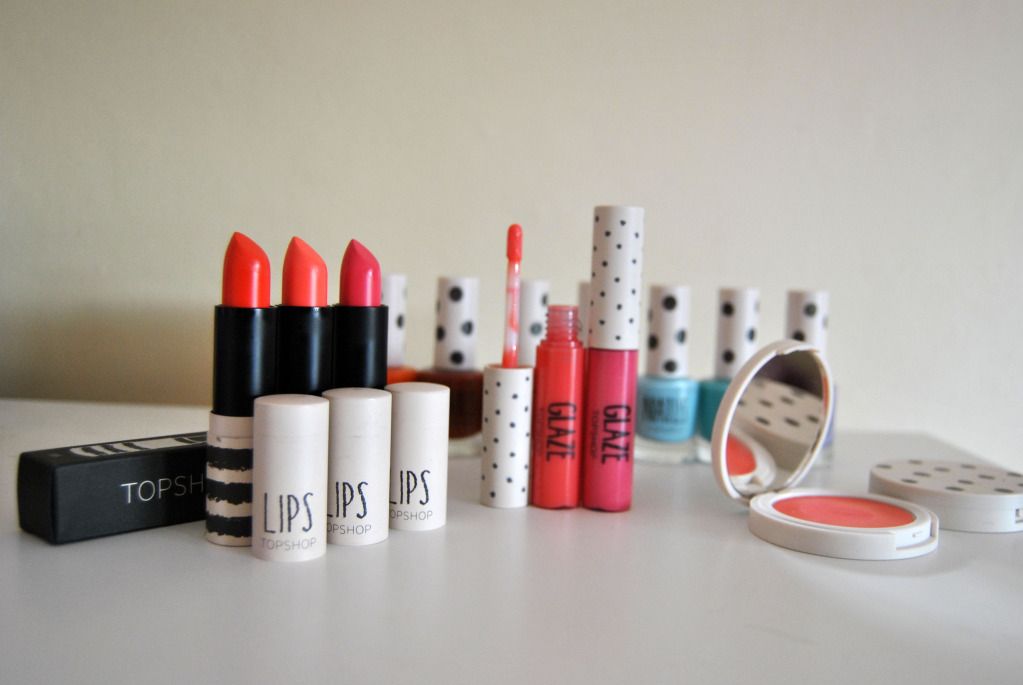 Jeśli chodzi o ciuchy, Topshop to jedna z moich ulubionych marek. Wiedziałam więc, że będzie tylko kwestią czasu, kiedy zdecyduję się na wypróbowanie ich kolorówki. Dla mnie główną jej zaletą jest i była rzadko spotykana gama kolorów.
Poza tym, zostałam całkowicie zauroczona ich opakowaniami.
T
opshop is one of my favourite clothing brand so I knew it will be just matter of time when I decide to try out their make up line. The thing I like the most is a fantastic range of colours they offer. I also love the packaging.
from the left: louder, butter-scotch babe, domestic goddess, play for keeps, worlds end, pool party, chase;
Lakiery (£5) mają bardzo dobrą pigmentację, czasami wystarcza juz jedna warstwa, aby nadać paznokciom ładny, jednolity kolor i dobre krycie. Lakiery, na moich paznokciach, z dobrym topcoat, trzymają się minimum 5 dni czyli dłużej niż jakikolwiek lakier z innej firmy, który kiedykolwiek używałam!
The nail polishes (£5) have a really good pigmentation. Just one layer gives you almost no visible effect. If I use a top coat, they stay on my nails for about five days without any chipping. It's the best result I've ever achieved!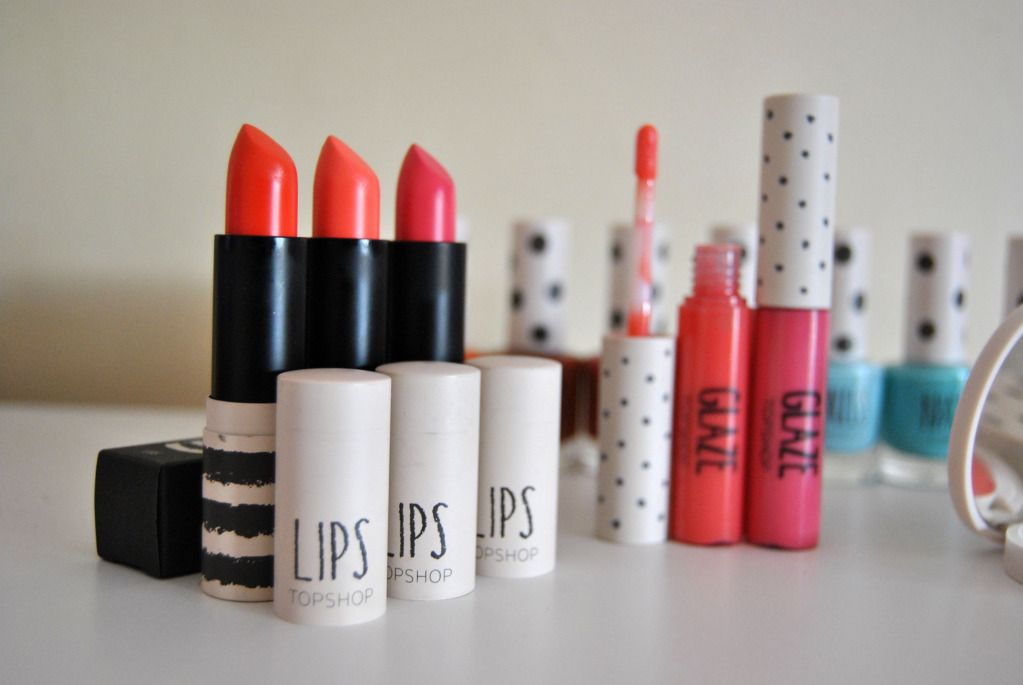 lipsticks from the left: infrared, ohh la la, brighton rock; lip glosses: laid in back, bubble gum;
Wszystkie szminki (£8), jakie mam, zamawiałam przez internet, więc trochę ryzykowałam przy doborze koloru, a okazały się moimi ulubionymi szminkami w całej mojej kolekcji. Są dobrze napigmentowane, a jednocześnie mają delikatną, kremową konsystencję. Nie wysuszają ust i nie podkreślają skórek. Mam też dwa błyszczyki (£6). Są raczej transparentne i nadają ustom delikatny kolor. Nie kleją się i mają ładny waniliowy zapach.
All three lipsticks (£8) I ordered online, so I risked a bit choosing the right colours but when these small beauties arrived they turned to my favourite ones! The lipsticks are creamy and nicely pigmented. They don't dry the lips. I also have two lip glosses (£6). The bright colour in the tube sheers out on the lips, giving the lips a delicate colour. They aren't sticky and smell so nicely!
from the left: neon rose, head over heels;
Róże kremie (£6) mogą być bardzo fajnym dodatkiem do dziennego makijażu. Chociaż kolory w opakowaniu wyglądają na bardzo intensywne, po nałożeniu uzyskujemy bardzo delikatny rezultat. Trudno z nimi przesadzić i ładnie stapiają się ze skórą. Mają bardzo kremową konsystencję i dają naturalne, welwetowo-matowe wykończenie.
The cream blush might be a very nice addition to everyday make up. Although, the colours look really bright in the pan, they are really easy to blend and look very naturally on the skin, giving velvelty-powdery finish. They are really easy to use and you can build up the colour depending on the intensity you want.
Kosmetyki te zdecydowanie należą obecnie do moich ulubionych. Zawsze sceptycznie podchodziłam do kosmetyków wypuszczanych przez marki odzieżowe a tu takie pozytywne zaskoczenie:) Uważam, ze ceny za produkt jaki dostajemy są ok. Zdecydowanie najbardziej zachwycona jestem lakierami i szminkami. Jest jeszcze parę rzeczy, które z chęcią bym wypróbowała, np. ich podkład, tusz do rzęs i rozświetlacz. A wy używałyście juz coś z Topshopu? Jeżeli tak, to dajcie znać co o nich myślicie!:)
Overall I am really pleased with the cosmetics. They are my current favourites. I was always a bit skeptical about make up products released by clothing companies and I'm really nicely surprised:) I think the price, for the quality of product you get is ok. Definitely the nail polishes and lipsticks charmed me the most. There are still a few things I'd like to try out, for example mascaras, highlighters and a tinted moisturizer. What about you? Have you tried any of the Topshop make up products? If yes, share the opinion with me and tell me what you think about them! :)