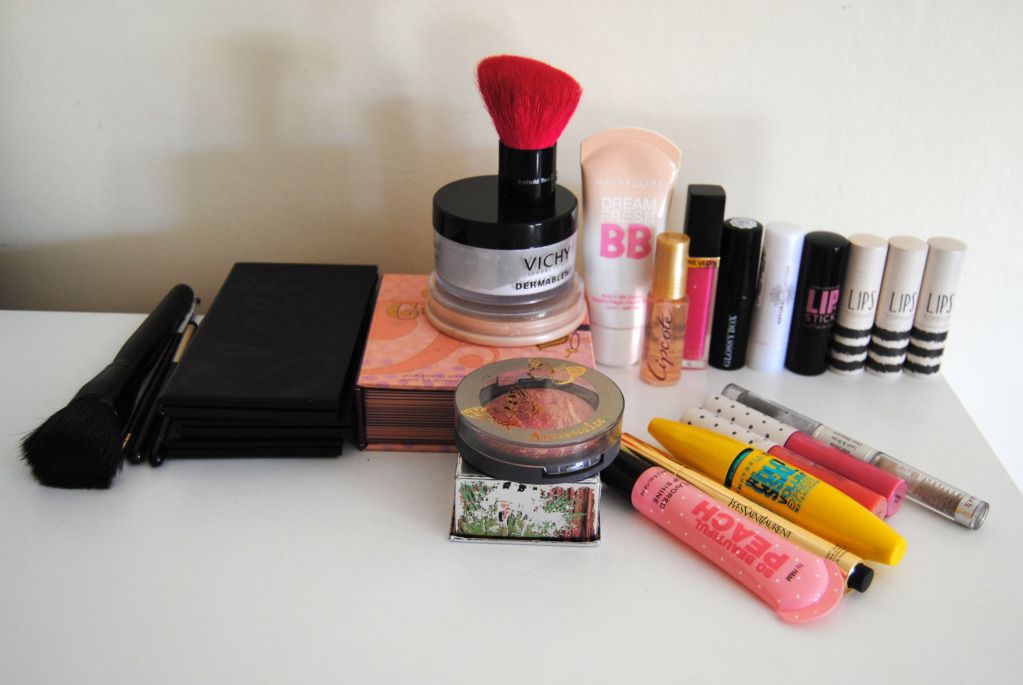 Hej dziewczyny!
Dostałam ostatnio sporo komplementów/pytań odnośnie mojego makijażu i pomyślałam, że to dobra okazja, aby pokazać Wam moje ulubione produkty, zwłaszcza, że mój codzienny makijaż jest dość prosty i prawie zawsze taki sam.
Hey girls! I've got lots of really nice compliments/comments about my make up lately and I thought it is a good opportunity to show you my favourite products of the moment, especially that my every day make up is very simple and almost always the same.
from the left:
benefit confessions of a concealaholic concealing & brightening kit, vichy dermablend setting powder, rimmel stay matte pressed powder, sephora kabuki brush, maybelline dream fresh bb cream, elf brush, accessorize scandal with love merged blusher, benefit coralista box of powder;
Nie mam jakichś większych problemów z cerą, dlatego obecnie używam BB Cream z Maybelline, który w zupełności mi wystarcza. Fajnie wyrównuje koloryt skóry i nawilża, co dla mnie jest akurat ogromnym plusem. Na ewentualne niedoskonałości przychodzi z pomocą zestaw korektorów z firmy Benefit. Ewidentnym hitem zestawu, jak dla mnie, jest Boi-ing. Jest to korektor w dwóch odcieniach, które po zmieszaniu dają odcień prawie idealnie zbliżony do mojego naturalnego koloru skóry. Po za tym świetnie kryje.
I don't have big problems with my skin, so Maybelline BB Cream works for me absolutely fine. It evens my complexion and what is even more important for me, I feel like it also moisturizes my skin. When I occasionally have some breakouts, I use a set of concealers from benefit. Boi-ing, my favourite one, comes in two shades that you can mix to get the right colour to suit your skin tone. It also has a great coverage.
Nie używam bronzerow. Na co dzień i na większości zdjęć na blogu, moje kości policzkowe podkreślone są różem Coralista z firmy Benefit. Kosztował £23.50 (ok. 120 zł) czyli sporo, ale pieniądze zostały zdecydowanie dobrze zainwestowane. Używam go prawie codziennie, a już drugi rok. Gdy łobuz Coralista się gdzieś schowa, zazwyczaj sięgam po róż z Accessorize, który również bardzo lubię. Obydwa produkty zawierają drobinki rozświetlające, wiec rozświetlacz jest już zbędny. Na koniec makijaż utrwalam zazwyczaj pudrem z Vichy, a w torebce zawsze towarzyszy mi transparentny Stay Matte puder z Rimmel, który świetnie matuje buzie w strefie T.
I don't use bronzers. Every day and in most of my pictures on my blog I highlight my cheekbones using Benefit Coralista blusher. It cost a lot (£23.50) but I think it's a very good investment as I really love it and I've been using it nearly every day, for over one year. If I want a little change I usually reach for Accessorize Scandal Blusher which I also really like. They both have some shimmer in them so a highlighter isn't necessary. In the end, I use Vichy Dermablend Setting Powder to set my make-up and I always have Rimmel Stay Matte Powder in my bag which helps me keep my skin looking matt, especially in T zone.
from the left: sleek oh sho special eyeshadow palette, maybelline the colossal volum' express mascara, ysl touche eclat;

Jeżeli chodzi o makijaż oka, jest on, tak jak wspominałam, prawie zawsze taki sam i na dodatek bardzo prosty. Od lat jestem wierna cieniom z firmy Sleek. Mam już kilka ich paletek, ale zdecydowanie Oh So Special najbardziej przypadła mi do gustu (to już drugie opakowanie). Po pierwsze dlatego, że jestem fanką naturalnych kolorów, po drugie mam w niej wszystkie kolory, których potrzebuję.
Czarnym robię kreski na oczach (nie wyobrażam sobie już bez nich makijażu), a brązowym (drugim od prawej, na dole) podkreślam brwi. W zależności od pory dnia i nastroju, wybieram jeden z pozostałych cieni, który po prostu nakładam na całą, górną ruchomą powiekę.
When it comes to eye make-up, as I mentioned before, it's very simple and usually always the same. I've been faithful to Sleek eye shadow palettes for ages. I have a few of them in my collection but Oh So Special is definitely my favourite one (it's my second one). Firstly because I'm a big fan of neutral colours and secondly it has all shades I need. I use the black colour as an eyeliner and the brown one (second from the right, in the lower line) to make my brows. Depending on my mood and time of a day I choose one of other colours and I apply it on my whole upper eyelid.
Mam dużo tuszy, które lubię, dużą grupę wśród nich stanowią tusze z Maybeline. Uwielbiam prawie wszystkie. Jestem fanka dużych szczoteczek, które nadają dużej objętości moim lichym rzęsom. Czasami, jeżeli mam więcej czasu albo zawaliłam noc, używam rozświetlacza z YSL, o którym już pewnie wszystkie słyszałyście.
I have lots of mascaras that I really like. Lots of them are from Maybelline. I'm a big fan of big brushes, that give my flimsy eyelashes some proper volume. Sometimes, if I have enough time or I'm after sleepless night, I use a famous YSL highlighter under my eyes.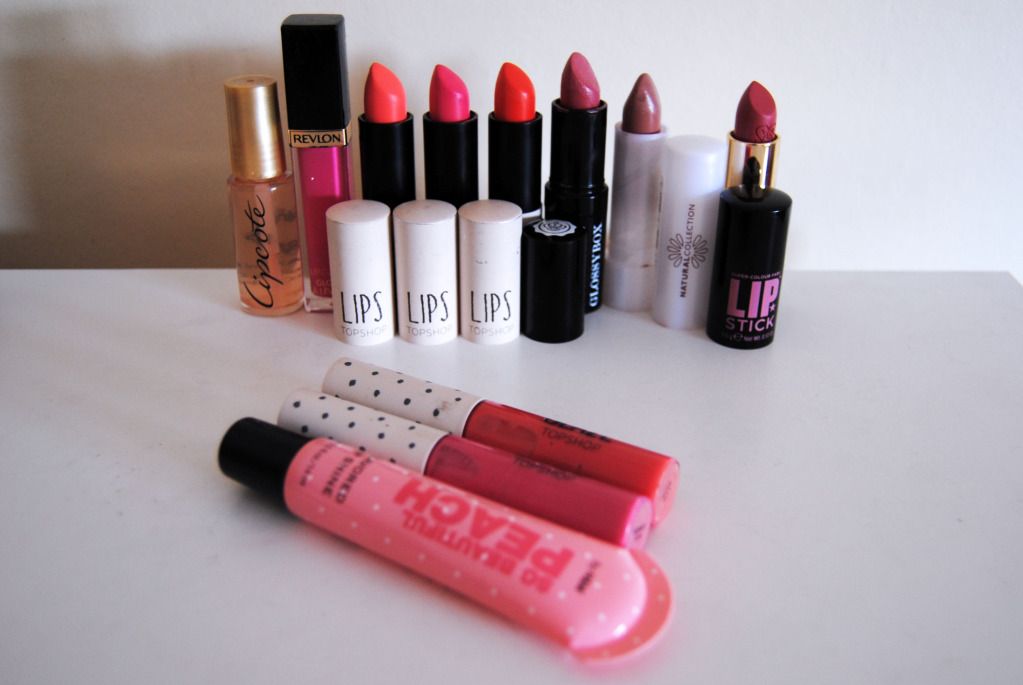 from the left: lipcote lipstick sealer, revlon super lustrous pink pop lipgloss, topshop ohh la la lipstick, topshop brighton rock lipstick, topshop infrared lipstick, glossy box glossy pink lipstick, natural collection moisture shine lipstick, soap & glory guava rama lipstick, h&m so beautiful peach lipgloss, topshop bubblegum lipgloss, topshop laid back lipgloss;
Ok. Do tej pory było w miarę skromnie jeżeli chodzi o ilość używanych przeze mnie produktów, ale każdy przecież ma jakąś słabość ;) To tylko część produktów do ust jakie posiadam. Najbardziej ulubione z ulubionych. Jeszcze parę miesięcy temu, namiętnie używałam wszelkiego rodzaju błyszczyków. Teraz zostały tylko te ulubione, nieklejące się do ust. Za to pokochałam szminki. Eksperymentuje z kolorami, wykończeniem, formułą, ale te które podbijają moje serce muszą też nie wysuszać ust.
It's time to share with you my little obsession. The products included in the photo are only a small part of my collection. The most favourites of my favourites. A few months ago I was rather into lip glosses. Now I have just kept the non-sticky ones. But I've fallen in love with lipsticks. They can have different colours, different finishes or formulas, but there is only thing which really counts for me, they can't dry my lips out.
To chyba na tyle. Chciałabym tutaj zaznaczyć, że w dziedzinie wizażu jestem totalnym laikiem. :) Metodą prób i błędów przez parę lat doszłam, do tego jakie kolory mi pasują i czego szukam w kosmetykach.
Ok. I think that's all. I'm not a professional when it comes to make-up. I've learnt everything, about my face, products and colours which suits me, using the trial and error method.
Jest nadal masa produktów, firm, które chciałabym wypróbować. Oczywiście wsród nich są legendarne produkty firm Mac, Bobby Brown, Laura Mercier, ale i wiele, wiele innych.
Z chęcią przeczytam jakie są Wasze ulubione produkty i co polecacie.
Mam też nadzieję, że post chociaż trochę okaże się dla Was ciekawy lub przydatny! :)
There are still lots of products, brands I would love to try out. Of course, on my list are Mac, Bobby Brown, Laura Mercier products but also many, many more. I would love to read what are your favourite make-up products and what you recommend.
I also hope that this post is at least a bit helpful and interesting! :)