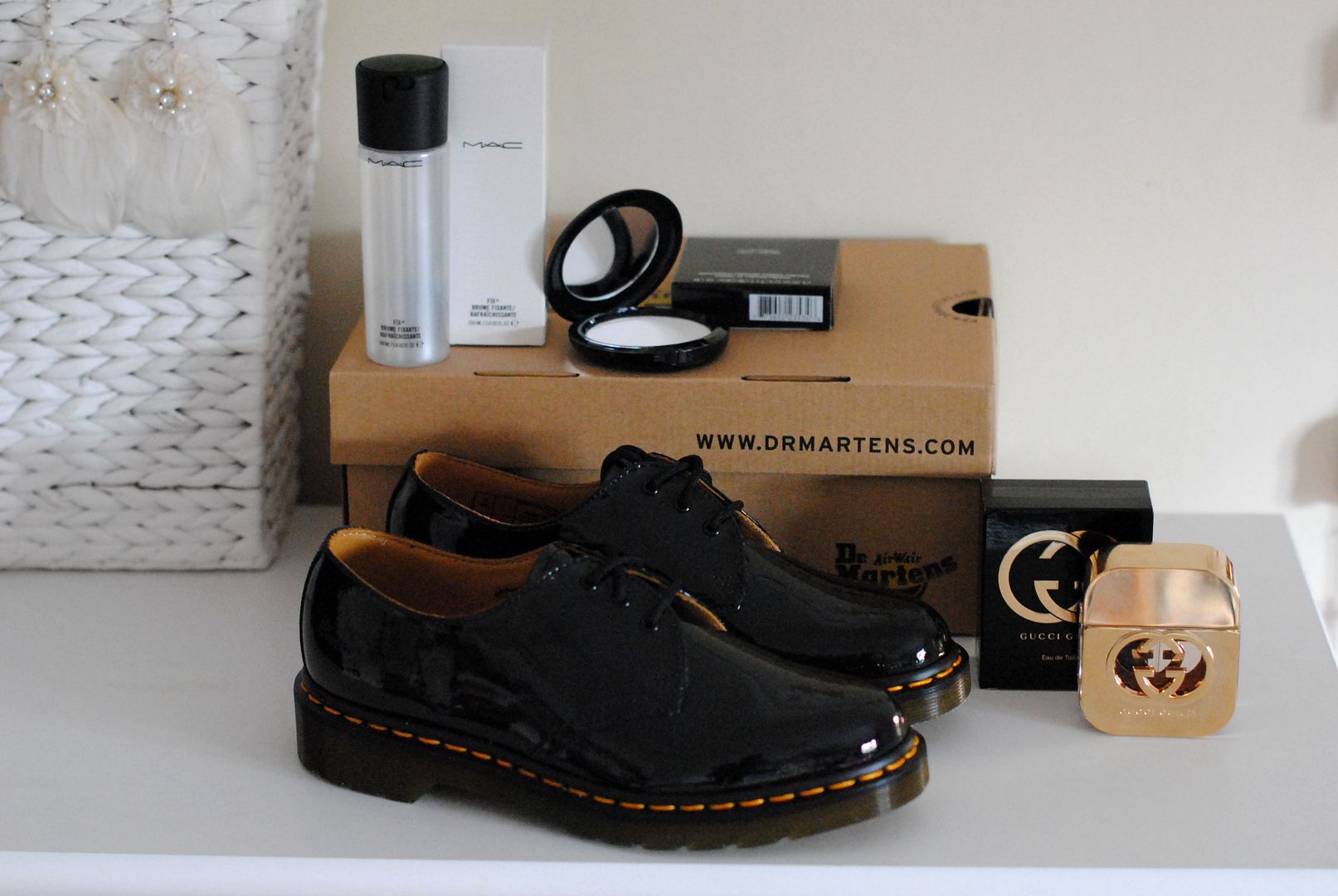 BUTY DR MARTENS 1461
- na niskie martensy miałam ochotę odkąd zobaczyłam w nich
Alexe Chung
, dobre dwa lata temu. Jednak długo nie mogłam zdecydować się na ich zakup, ponieważ miałam nieodparte wrażenie, że już to kiedyś przerabiałam, że okres latania w tego rodzaju butach mam już za sobą.
PERFUMY GUCCI GUILTY
- jestem dosyć wybredna jeżeli chodzi o perfumy. Mało jest takich, których zapach by mnie nie męczył, albo nie znudził mi się po krótkim czasie. Tym większe zdziwienie, że tak je polubiłam. Jest to słodki, kwiatowy zapach. Mocny, ale nie duszący. Intrygujący, zmysłowy i kobiecy. Idealny na te porę roku.
MAC PREP + PRIME TRANSPARENT FINISHING POWDER & FIX+
- obydwa produkty użyłam dopiero parę razy, ale już zdążyłam się ich działaniem zachwycić. Puder matuje, a jednocześnie jest w ogóle niezauważalny na skórze, co jest jego ogromny plusem. Z kolei Mgiełka Fix + pięknie scala i utrwala makijaż. Na dodatek nawilża i ładnie rozświetla buzię. Ma bardzo ładny zapach. Mgiełka ma w swoim składzie rumianek, zieloną herbatę, ogórek i zero alkoholu. Brzmi wi
ęc
nieźle.
DR MARTENS 1461 SHOES
-
I've been wanting these shoes since I saw them on
Alexa Chung
, about two years ago. However I struggled to make a final decision as I still remembered myself as a teenager wearing ONLY them.
GUCCI GUILTY PERFUME
-
I'm very choosy when it comes to perfumes. There aren't lots of fragrances which wouldn't be overwhelming for me or I wouldn't get bored very easily. So I was quite surprised that I really like this one. It's a sweet, floral smell. It's strong but not suffocating. Intriguing, sensual and very feminine, perfect for this time of the year.
MAC PREP + PRIME TRANSPARENT FINISHING POWDER & FIX +
- Both products I've used only a few times so far but I can def say I've already fallen in love with them. The powder has a very natural finish, it leaves a matte skin without adding another layer of make-up. It's totally invisible what is a big advantage. In turn, Fix + perfectly finishes and sets a makeup. It also moisturizes and gives a lovely glow. It smells really good. Blend of green tea, chamomile, cucumber and zero of alcohol, that all sounds good.